11/1/03 : Celebrated the Uruka of "Bhugali Bihu" with a party at Baruah Sir's Quarter. It was a nice gathering of about 25 peoples. The cold was so severe that we had to take the help of campfire. But we had to enjoy the real cold while returning back from the party at night. There was dense fog everywhere and we can hardly see the way few meters ahead. The party ended nicely with an hot coffee at our hostel canteen.
18/01/03-26/01/03 : I was in Mysore for the International School on Crystal Growth with my P.HD colleagues Atul (Swamiji) and Jyoti Da. We are kept in a nice Guest House and had a nice time in Mysore. We also found out time to visit the Mysore palace and the Brindavan Garden. The school was attended by many international scholars who were experts in their own fields. So it was an nice learning experience for a new kid in the field like me.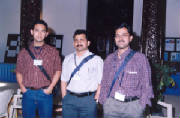 Mysore and Bangalore Visit, With Pictures
27/01/03-29/01/03 : GE called the students who has received their scholarship for an felicitation function and I thus got this opportunity to visit their office
JFWTC
at Bangalore. So I moved to Bangalore from Mysore. It was really a nice experience where I met all the other GE scholars from other institutes. GE took us to their research facilities and it was a great interaction. We got to know more about the company we were associated with. On 29th I was interviewed in GE for their EEDP programme. The result is still awaited. But I was less nervous as I already had an job in my hand.
27/03/03 : Defended my Thesis in my final oral examintion. It means that I am an M.Tech now. The presentation went well (better then I expected). I am leaving to Bangalore on 30th sunday to join GE on Monday 31st.
12/04/03: Rongali Bihu celebrations at Bangalore. I was just two weeks old here and thus got to meet lots of new peoples from Assam. More can be seen from this link:
25/05/2003: Went to Bannerghata National Park, near Bangalore with my friend Biju (he sit's besides me in my cubicle in office). We had a nice time and went for the Tiger safari, and believe me, we saw a lot's of them.
30/5/2003: We are having our Convocation today. I was not able to attend it but you can get more information about it from the link below:
12/06/2003 : Farewell to our previous manager of EEDP Mukesh Doble. We went for car racing. Had a great time with all my friends. Played cricket after a very long time. It was the most entertaining day in Bangalore till now. For pictures click the link below.
23/06/2003-28/06/2003 : Went to Pune for Advanced Fluent Training. It was my first visit to Pune. So I enjoyed it a lot and had a chance to see Pune along with my Training. I also met Anil and Kothari (IIT Friend's) there. I stayed with them for one day. Also visited Lonavala (near Kkhandala).
3rd week of July: Participated in inter Lab Volley tournament. Ended up losing in the semi-finals. We gave a good fight.
15/08/2003: Visited Swadhin's house on his birthday. He is a B-Tech from IIT Guwahati. Met him for the first time today. Also met Bitupan Saikia, my school friend after a long time. Also met many other peoples from Assam. Rupam (from Moran) was also there. He called me for lunch on 17th sunday. It was nice that my lunch was booked, as I was alone at that time as my rommies was visiting their relatives.
27/09/2003: Participated in JFWTC badminton in the mixed doubles category. I was not prepared to play as I was out of practice. Shwetha Reddy was doing her internship and was looking for an mixed doubles partner. So I thought of giving it a try. She is a good player, and we managed to reach till the semifinal. We ended up as third. All credit goes to Shwetha. If I could have played somewhat better we could have won. Never mind, it was a nice experience.
4/10/2003-5/10/2003: Went to Mysore on the occasion of Dusherra. We were five of them - Me, Arvind, Jayadeep, Sujeet and Puneet. We stayed there in Arvinds Uncle's house. Aunty was a great hostess, and she cared for us a lot. Had a chance to eat home made food after a long time and we made the most out of it :-) On 4th we visited Brindavan Garden (it was my third visit there) and came back to see the Palace. The palace was beautifully illuminated for the occasion of Dusherra and was looking GREAT. The next day we spent the morning in the zoo. Enjoyed the grand procession in the evening. It was really worth watching. Reached back Bangalore at night. The journey was tiring, but we had a lot of adventure....
18/10/2003: Family Day was celebrated in our centre (JFWTC). This is the day when the employees can bring their family to the centre. There were lot's of fun events which included childrens painting competition, employees painting competition, Rangoli competition. I liked most the Fancy Dress competition of employee's children. They were all so cute. One kid was just 11 months old and he was sitting in a toy car wearing a ferrari dress. He was Michlael Schumacher :-). It was all fun and eneded up well with dinner.
20/11/2003-30/11/2003: Went home after about an year. The visit was great. Took some gifts for my parents and sisters. Crashed our car one day while on the way to Sibsagar. Nothing happened luckily to us but the car had serious damage. Mom was busy with town committee elections. My brother also managed to find out time and come home. So it was a family get together. Had lots of fun.
25/12/2003-29/12/2003: Visited Kerela. We were three, my roommate Jayadeep, his friend Ramesha and me. First we went to Wayanad. It's a district attached to Karnataka, filled with natural beauties. Stayed there till 28, and in the evening moved to Jay's house in Kozhikode (Calicut). Moved back to Bangalore on 29th night. The journey was tiring with lot's of trekking, but we enjoyed it a lot. Got to know more Kerela dishes and also lost some weight during trekking :-)
31/12/2003: Last day of this year. Planned dinner with friends. A new resturant was opened near our house called "Little Italy". So we decided to try out there. But at last only two remained for dinner, me and Sujeet (my B-Tech friend). So we had a great Italian dinner. Nice food and a nice sleep. Waited till 12:00 midnight to wish new year to friends and family. It was a good year gone. So Bye Bye 2003........