1/1/2004: Happy New Year to All of You. Took a new year resolution to start jogging in the morning and wake up early. Funny Huh :-) Started from 31 December of last year. Continuing it today too :-) Let's see how long does the resolution survive.
11/1/2004: Grand Magh Bihu celebrations at Bangalore. The Assamese peoples in Bangalore gathered together to celebrate the Bhugali Bihu. I also joined the occasion with four of my guests (Arvind, Jai, Sujeet and Biju). Programme started with burning of the MEJI. Had breakfast with Chira/Doi/Gur. It followed with lot of traditional (koni juj) and fun games for childrens (tekeli bhonga, running etc.) and womens (lemon_on_spoon, musical chair etc.). Post lunch was a fantastic display of cultural events. Bihu dance and Bihu songs were my personal favourites. It was lot's of fun. Hope this effort in Bangalore continues.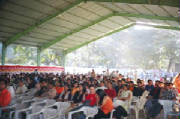 http://www.geocities.com/bihublore/
Magh Bihu celebration pictures
8/2/2004: Bryan Adams Bashes Bangalore. So whats the day about. I am going for the Bryan Adams live concert. One of my FAVOURITE singer. It was really a night to remember. 30000 peoples swinging to his tune. Bryan really meant it when he sang "Let's make night... To Remember......." It was such a great feeling to see the ICON live in front of you.
14/2/2004 - 15/2/2004: Trip to Tirupati. Suddenly planned the Tirupati trip on friday (13). Left office at 7:00. Quick packing of clothes and by 9 pm I was in the car with my colleague Hemanth and Biju. Bad starting. We met an accident near Tirupati. Car got damaged and we somehow managed to reached Tirupati. No injury to us was a Big Boost. The schedule got delayed and we managed to visit Tirumala on 15th. Big croud. But ...... "All's well that End's well"
19/2/2004 - 21/2/2004: Off-site training at PEGASUS (www.pegasusinstitute.com).
Went to Pegasus institute for a training on Confidence and Team Building. It is about 60 kms from Bangalore, but took two hours because of the road conditions. The training was lots of fun. It is run by ex-army officers. They trained us by their way. So it also included adventure sports. We came back tired but satisfied.
11/3/2004 : EPT off-site. Went to Eagle Ridge for the off-site of our lab. Our Global Technology Leader, Sanjay Correa was in India for project reviews and this offsite was a part of the agenda. The day started off with adventure of location hunting due to some error in the road map to the resort. We somehow managed to reach the place :-). Sanjay kicked-off the day with his pitch. Day went well with a cricket match and lots of different fun games. Out team also won the prize of best self composed GE values song....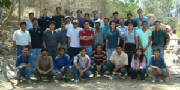 19/3/2004 - 21/3/2004: Anil in Bangalore. Anil was in Bangalore for interview in Quest. He reached on 19th night form Pune. 20th went off with his interview and the most awaited cricket match between India and Pakistan after 14 long years. India won the nailbiting match with photo-finish. Pakistan really gave a great fight for India almost impossible target. Ani left Bangalore on 21st night....
9/4/2004 - 18/04/2004 : Trip HOME. Went home on the occasion of Rongali Bihu. I haven't been in home during Bihu for years/ So I really wanted to go. I went home via my B-Tech college NERIST. It was really nice to go there after three long years. Bihu in home was dampened though by heavy persistent rains, it was really nice to be at home. Reached Bangalore back on 18th.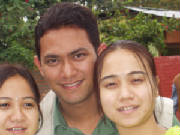 23/4/2004: Blood donation camp at JFWTC.
Donated blood (
2nd time in my life
) in a blood donation camp organised by ELFUN (
http://www.elfun.org/
) a voluntary organization of GE.
Wanted to be a blood donor. Or searching for blood donors. Visit http://www.indianblooddonors.com/index.asp
1/05/2004 : Bohag Bihu celebraiton at Bangalore. Bohag bihu celebreation by the assamese peoples in Bangalore. It started at 1:30 pm with community lunch followed by cultural events. Main attractions were Bihu Dance, Husori and Fashion show.
15/05/2004 : Bowling in Bangalore. Our group of EEDP's went for bowling in MegaBowl's bowling arena. Had a great time. We also had dinner together at night. Sarit's wife also joined us for dinner. This was a format get-together for all of us after a long time. So we enjoyed it a lot.

5/06/2004 : Kayaking and Treking. Adventure club in JFWTC organised this Kayaking and Treking. We left Bangalore on friday evening. Reached Ane Jhari Nature Camp, Kollur in morning. The group was divided into two. One (our group) went for Varahi White Water Kayaking. The other group departed for Arasinagundi Trek and Watrefalls. Due to time constraints we were not able to complete the full trip (we missed treking and the other missed kayaking). But overall it was lot's of FUN.....

3/07/2004 : MRL picnic. Went for MRL picnic. It was held in Club Cabana a resort near Bangalore. It was a great place with lots of things to pass time. The enthusiasm of the MRL team increased the fun. We played cricket, basketball, snooker, pool and also bowled. Took bath in the artificial waves. It was really a good time for me......

5/07/2004 - 8/07/2004 : Training in Hyderabad. Went to Hyderabad for a training. Peoples of GE from different locations within India joined. It was a great opportunity for networking for us. We also toured the Hyderabad city after the training ended. We saw Ramoji film city, Birla temple, Golconda fort, Charminar, Husainsagar. One evening was spent on Prashads the multiplex. Saw the Movie Harry Potter at the IMAX theatre. The trip was good with lots of fun...

27/08/2004-28/08/2004 : EPT offsite. Went to Cauvery Fishing Camp as an team building effort from our EPT lab. We had a great time with lot's of fun games, camp fire, trekking and coracle ride filled with adventures. We also went to see the Gagan Chuki falls. Its the biggest waterfalls I have seen in my life till date.
08/10/2004: My Birth-Day. Day started as usual, me being sleeping late. Woke up when my phone rang. It was my sister who was calling me to wish me b-day. Followed - wish from my mom/dad. Also received wishes from Mili, Sunita and Anita. Surprise waiting in the office was a big flower bouquet and a cake from Prabha (my manager) from the EEDP team. Shared it with my colleagues. Left office late and went out to party with my rommies (rommies came to know about my b-day after they saw my bouquet. I didn't tell them in the morning). Received call from my brother (who is in Lebanon at this time). Overall the day went really well....
21/10/2004-29/10/2004 : Mom/Dad and sister visiting Bangalore. Mom, Dad and my smallest sister visited me in Bangalore. I have long back planned their stay, detailed for each day. They reached on time at 6:30 in the evening of 21st. 22nd was the day in Bangalore. We saw the Lal Bagh, Vidhan Soudha, Cubbon Park and teh science museum. On 23rd I took them to my office and ITPL. In the evening I took them to the ISCON Temple. Bhanita (my brothers friend) also joined us. On our way back went to Manipal to see Bhanita's mom who was admitted there. On 24th I took them to Nandi hills. In the evening went to the Shiva Temple infront of my house, and then to Kemp Fort that's attached to the temple. I also took them to MG and Brigade road for more shopping. The next three days they were on a KSTDC trip to Mysore/Ooty and Coonor. It was tiring but they had a good time. On 28th took them to Bannerghata National park. On way back did shopping in Commercial street. They really liked that place. Good for ladies shopping :o) 29th they rested in home. Boarded the train at 11:30 pm. It was really a hectic schedule for them, but lot's of shopping and fun.
07/11/2004-13/11/2004 : Diwali in Delhi. Planned for my Diwali in Delhi. It was combined with few of the other works I had there. Left for Delhi on 7th and reached on 9th noon. Pinku my B.Tech rommie came to receive me from Nizamudin railway station in Delhi. That evening he also arranged for an Iftar party (it's roja time) with his JMI colleagues. The evening we went out for a long drive around the shopping malls. I also met Nazia, Pinku's fiancee. Next day I went to the Delhi hut. It's a nice place where you can do shopping of traditional goods from all the states within India. Nicely arranged. Had some snacks and Nazia had her hands colored with Mehendi. Evening went to Rashmi's house. Rashmi is my good friend and sister. Next day finished up some of my works of transferring some goods and went out shopping in the evening. The night was spent on Nitu da's (cousin brother) house. Met him after a long time and also saw his daughter for the first time. The next day was diwali. Did diwali shopping, special foods at home, lighting of diya and candles, and of course crackers. The whole of Delhi was rocking in the light and sound of crackers. Diwali in Delhi is really great. The next day I took the train back to Bangalore. Overall it was a nice trip.
4/12/2004: JFWTC Family Day. Today was our centre's (JFWTC) family day. The day dedicated to our family who support us in so many ways to make what we do everyday possible. It was a huge turnaround of around 4000 peoples. There was lots of competition among families and kids - painting, pot painting etc. It followed by performance by employees from the centre. There were also performances by visiting professional troupes. The whole arrangement was superb and function ended well with exhilirating show of fireworks.
11/12/2004 : Pandit Shiv Kumar Sharma & Strings in Bangalore Habba. Pakistani rock band Strings performed in todays function of Bangalore Habba. When we reached at Palace Grounds in Bangalore, it was Pandit Shiv Kumar Sharma and his son playing the Santoor. It was first kind of a experience for me to listen to a maestro. The events were followed by coreographed dances and fashion show. The programe ended beautifully with String performing their popular numbers. More information on Bangalore Habba can be obtained on:
18/12/2004 : EPT Family Day. The annual ETP Family day was organized at the Manipal County Club in Bangalore. All our colleagues came to the occassion with their family. It was a good get together with lot of fun games like - treasure hunt, find the family, dumb charads and antakshari. The breakfast and lunch was also in the agenda. Passed the rest of the time playing different games - Lawn tennis, cricket, badminton, table tennis. Also tried hands with the boxing gloves :o). The day went really well.

20/12/2004 - 21/12/2004 : EEDP offsite at Kabini. Went to Kabini river lodge as part of the EEDP offsite. It's about a 7 hours drive from Bangalore. So we have to leave early. The day started with team building excercise by Prabha to design a self sufficient village. It was great fun. It followed with jungle safari at Nagarhole forest reserve. Saw many wild animals like deers, wild boar, elephants and birds like serpent eagle. Even faced a mock charge by an tusker. The day ended well with another team building game of building a paper bridge that can sustain the maximum load. The next day started early with coracle ride in the Kabini river. The river looked gorgeous in the morning mist. It followed with an elephant ride safari in the jungle. That ended our exciting schedule on the lodge. For more information on the lodge visit the following link.