ASSAM..... Journey to the Green Land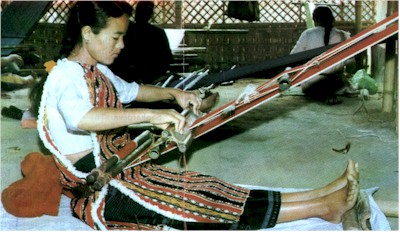 Tribal girl at her loom
Handloom weaving is a way of life in Assam. The number of looms in the State stands at around eight lakhs which works out to around 16 per cent of the looms in the entire Country. More than thirty thousand looms operate exclusively in silk. Cotton, muga, paat (mulberry silk) and endi are the basic raw materials for hand-woven fabrics in Assam.
Sualkuchi is the biggest centre of silk production and weaving in the State. There are more than 3,000 weavers in and around the township. Sualkuchi is known as the Manchester of Assam.
Muga silk has a natural golden colour and rare sheen that becomes more lustruous with every wash. Eri is a warm silk suitable for the winter. The designs used in Assam are mostly stylised symbols of animals, human figures, creepers, flowers, birds, channels, cross borders and the galaxy. Each ethnic group of the State has its own distinctive design and style. Assamese weavers produce beautiful designs on the borders of traditional garments such as the mekhela-chaddar and riha and on the gamosa (towel) .The Laichangphi, produced traditionally by the weavers of Cachar district, is a popular quilt sought after because of its warmth and softness. The tribals make beautiful shawls.


The bana

Doog-doogi
Jewellery has been a tradition in Assam. Gold was available in many of the rivers flowing down from the Himalayas. In fact, a particular tribe of people, the Sonowal Kacharis, were engaged only in gold washing in these rivers.
The Assamese jeweller (sonari) make exquisite lockets (doog-doogi, bana, jon-biri, dhol-biri) earrings (thuriya, loka-paro, keru), bracelets (gaam-kharu), necklaces (gal-pata), etc.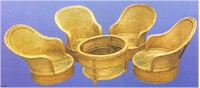 Cane furniture
Cane and Bamboo being quite common all over, are used to make a variety of products. Cane furniture of Assam is much sought after both in the national and international markets.
Bamboo is used mostly to make domestic products such as chalani (sieve), kula (winnowing pan), khorahi (small basket), etc. The fancy bamboo japi (hat) with its colourful design and motif is worn by the Assamese peasant while working in the field.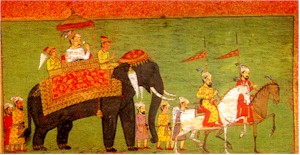 The tradition of painting in Assam can be traced back to several centuries in the past. The gifts presented to Hiuen Tsang and Harshavardhana by Kumar Bhaskara, the king of Kamrupa, included a number of paintins and painted objects, some done on exclusive Assam silk.
Assamese literature of the medieval period abound in references to chitrakars and patuas who were expert painters . Locally available material such as hebgool and haital were used for painting.
Ahom palaces and sattras and naamghars are replete with brightly coloured paintings depicting various stories and events from history and mythology.


Sitalpati or mats made from the patidai or mohtra reed is a traditional craft of Cachar.


A beautifully crafted bell-metal sarai
Brass and Bell Metal products of Assam are also famous for their beauty and strength of form and utility. Brass is an important cottage industry with highest concentration in Hajo of Kamrup district. The Sarthebari area of the same district is well known for its bell metal craft. The principal items of brass are the kalah (water pot), sarai (a platter or tray mounted on a base), kahi (dish), bati (bowl), lota (water pot with a long neck) and tal (cymbals).
Gold, silver and copper too have formed part of traditional metalcraft in Assam, and the State Museum in Guwahati has a rich collection of items made of these metals. Gold however is now used only for ornaments.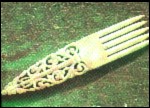 An Ivory Comb
Ivory products such as combs, bangles, walking sticks and smoking pipes were made in the district of Barpeta. Their production has however been stopped since a ban was imposed on making and selling of ivory products as a conservation measure. Combs made of the horn of oxes is also a speciality.

Pottery is practised by two communities of artisans in Assam --- the Hira and the Kumar. The Hiras make household articles using the compression method. The Kumars use their potters wheel to make images for worship and clay dolls and toys. West Assam has long been proficient in the craft of terracotta. Asharkandi, a village in Goalpara district is famous for its graceful clay dolls.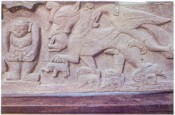 A wooden panel
Woodwork is an ancient Assamese craft. Exquisite wood carvings are seen mostly on doors, walls, beams, ceilings and the splendid carved sinhasans used in prayer houses. Decorative panels in the royal Ahom palaces of the past and the 600-year old sattras or Vaisnavite monasteries are intricately carved in wood.
A special class of people who excelled in wood carving came to be known as Khanikar. The painted woodwork of Golaghat is a folk art. Modern-day khanikars have taken to producing articles of commercial value, including figure of one-horned rhino and replicas of the world-famous Kamakhya temple --- two items heading the list of demands from visitors.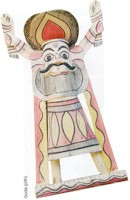 Kuhila Koth or fibre weaving is a famed handicraft of the Batadrava area of Nagaon district. Kuhila is woven on a simple loom-like gadget made of wood and bamboo poles to produce seats, mats and cushions. Kuhila craft is also an important cottage industry in the Gauripur area of Dhubri district in Lower Assam.
Pith or Indian cork has also been used for toy-making since centuries in Assam. Such toys are chieflymade in the Goalpara regionand they include figures of gods, animals and birds.